Improving Lives Through Ornaments
Each year during the holiday season, Coastal Craft Gallery - one of the galleries that shows my work - sponsors an Ornaments for Charity campaign. Each artist creates a unique ornament and chooses the charity they wish to support. For the 2017 holiday season, I wanted to support my local community and could think of no charity more worthy than the Visiting Nurses Association of Cape Cod Hospice. A limited edition #00 handled carrier adorned with a bow and miniature ornament also seemed fitting for the season.
You may be wondering from the headline of this post how an ornament can improve lives? My mother used to say, "A thing of beauty is a joy forever." While I do believe Shaker oval boxes are elegant and beautiful and the patrons of Coastal Craft Gallery apparently agreed by briskly purchasing all the ornaments I had made, the real improving of lives comes through the good people at VNA Hospice at a time when people need it the most.
I was introduced to the comfort provided by hospice workers and what they mean to people at end of life's journey through my mother. For many years, she was a hospice volunteer bringing comfort and dignity to terminally ill people. She would share her experiences of being with people during their final days suffering from debilitating terminal illnesses and simply the natural progression of years. How even people who seemed to have a life full of friends can be so alone during their final days. How even the most accomplished intellectual can loose their faculties to the ravages of time and be exiled on the uninhabited island of a failing memory. Hospice workers are there at this crucial time giving care and comfort to the patient and helping the family through a difficult time.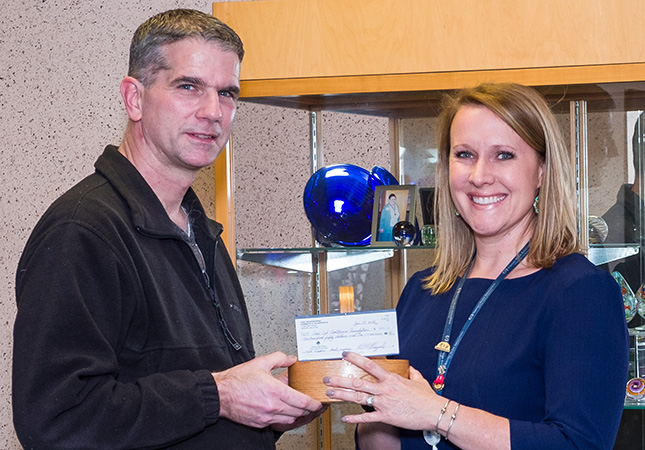 As mentioned above, I was humbled at the reception patrons of Coastal Craft Gallery gave my miniature carrier ornament this year, but felt honored to present a check for 100% of the proceeds to Sarah Endres, Director of Operations, Hospice and Palliative Care for Visiting Nurses Association of Cape Cod. Long after the holiday season is gone and ornaments have been packed away for another year, the team at the VNA can continue their mission of bringing aid and comfort to people truly in need.
To learn more about the VNA and the difference they make in people's lives, visit their website here.